Grey Chain is creating outstanding experiences by developing intuitive mobile applications. As a result, the firm has carved its name as top mobile app development firms at GoodFirms.
About the Company
Headquartered in Delhi, Grey Chain is a mobile app development company that is founded by top strategists. Consisting of a team of dynamic professionals who've come together to accomplish their clients' vision to build effective and scalable mobile app development solutions. The team works with utmost perfection and precision to maintain high-quality standards.
So far, the team has developed and delivered the most efficient solutions for clients across different verticals. Because the team believes in creativity and innovation, their solutions are always unique compared to its competitors. Every project offered by them is built directly on cloud servers. Hence, it is easier to save and share data to clients as well. The team works beyond expectations to offer full-fledged mobile app development services and help their clients grow.
The Process of GoodFirms
GoodFirms is an eminent platform that consists of a list of numerous companies to help seekers find the best companies offering exceptional app development solutions. The companies that are listed are evaluated on parameters such as Quality, Reliability, and Ability. These parameters help prospects find a reliable partner for their product.
GoodFirms evaluated Grey Chain using the same process and found the firm offering extraordinary services in their field. Driven to provide assured quality services, the firm complements their client's development process through and through. Read a brief extract about the company below:
Delivering Dexterous App Development Services
The mobile app is an invincible tool to draw customer attention. Knowing its importance for the success of a business, the team puts great effort and commitment to developing mobile solutions that are distinct and ingenious. The excellent team invests their time and effort to ensure a high amount of success for clients in the app store. They also have partnered with global clients and offer them the best developed Android and iOS apps.
To ensure that the clients receive a valuable end product, the team also does smoke testing practices that enable error-free MVPs. They support their clients' growth by delivering unparalleled mobile applications laced with perfection. Therefore, for following a standardized process and putting the right strategies in place, the firm holds the top spot as one of the leading mobile app development companies in Delhi at GoodFirms.
Tech-savvy Web Development Solutions
At Grey Chain, the expert web developers strive to give quality-rich web development services backed by astute planning. The company helps clients build a solid online presence that enriches their experiences in terms of leads, traffic, and conversions. The sound professionals combine unique strategies with their expertise to give out the best results in web development.
Deepak Gupta gave a 5-star rating to the firm expressing his gratitude for helping him develop the application.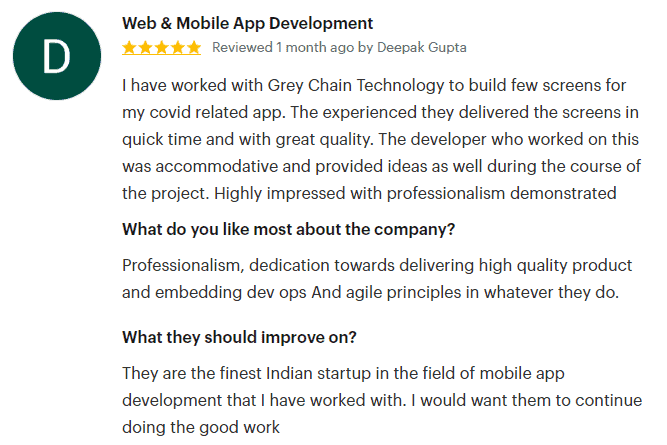 The team keeps transparency and ethics as their topmost priority. Their expert developers leave no stone unturned to build a robust website that can drag users and increase traffic. The result-driven team applies their skills and knowledge to produce a high functioning website from which their clients can easily benefit. Their zeal and enthusiasm can soon make the firm secure a position as the top web development companies at GoodFirms.
Delivering Extraordinary App Designing Solutions
It is equally crucial for a mobile app to have a rich and smooth user interface. The Grey Chain team focuses on designing a stunning app that helps build a successful roadmap for its clients. The excellent team stands out for its uniqueness; someone who could face every challenge to deliver an out-of-the-box application. The dynamic team works collaboratively to deliver app designing solutions that can give their clients a competitive edge.
The team is equipped with every minute detail required to design a flawless application that can meet the clients' expectations and match the new trends. Their ASO technique helps acquire new customers, and their unique UX driven service makes Grey Chain the most preferred app designing firm. Hence, for combining expertise and innovation, the company is dubbed as one of the top mobile app design companies in Delhi at GoodFirms.
About GoodFirms
Washington, D.C. based GoodFirms is an innovative B2B Research and Reviews Company that extensively combs the market to find top Mobile app development, Web development, and App designing Services firms that offer the best services to its customers. GoodFirms' extensive research processes help rank the companies, boost their online, helps service seekers pick the right technology partner that meets their business needs.