Providing digital transformation app solutions to businesses and startups with human-centered design philosophy, Grey Chain burgeons as one of the top mobile app development companies in New Delhi at GoodFirms.
Overview:
Incorporated in 2016 and based in Delhi, India, Grey Chain is a young creative cross-platform app development company. Founded by ex-employees specialists from top IT and management consulting firms, Grey Chain Technology is an app development and UI/UX Consulting firm with a core focus on building products that change lives.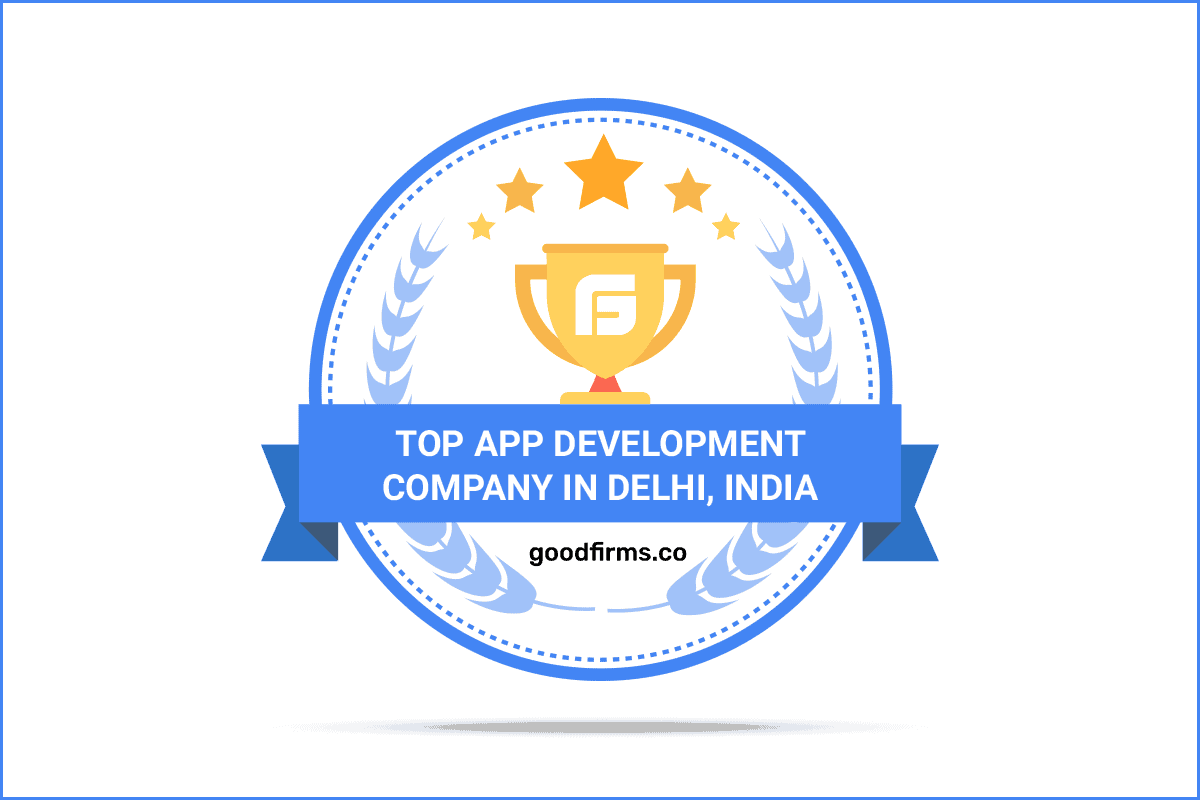 The innovative lab team is the first one that matches clients' demands and works with them to shape their ideas. The team assists in growing new ideas into full-fledged products. The team ensures the highest standards of ethics and keeps "Classified" level protection for their information.
Once the team starts working on the project, everything is built directly onto a secure cloud server. High standards of ethics lead to a high amount of trust of the customers in the company.
Having a group of talented folks makes it a dexterous task for the organization to bring innovation to everything they do. The experts' team aims to put together the visions and focus towards the best services with utmost perfection when it is all about providing the clients with satisfying and optimum results.
GoodFirms' Research Process:
GoodFirms is a B2B online platform that offers the required exposure to the top mobile development, web development, and app designing companies on its platform with its accurate research methodology.
The evaluation performed at GoodFirms comprises three criteria – Quality, Reliability, and Ability with which the firm assists in pitching the companies as per their performances. All business proprietors can quickly create a profile at GoodFirms; however, only a few of them earn a leading position by displaying their unique abilities.
Mobile App Development:
As per Google trends, 90% of the web traffic is via mobile app, which is the primary skill required to deliver world-class products targeting clients' end users. Grey Chain has highly skilled mobile app developers who are experts in dedicated areas; be it iOS, Android, or Flutter,
Grey Chain has given mobile-first center of excellence (CoE) for mobile app development best practices. It combined UI / UX, Agile, and DevOps practices, enabling the next generation of entrepreneurs and enterprises to build world-class products.
At Grey Chain, the professional team believes in supporting and developing new ideas into full-fledged products. The team guarantees the highest norms of ethics and has a "Classified" level of security for clients' business information.
Moreover, the team believes that creativity spurs their spirit of work. The involvement with clients is of utmost importance for the team, and they are always ready to talk to clients irrespective of odd days. The team also ensures that the businesses succeed by delivering them with value and empowers the clients' company's underlying infrastructure by having a healthy work pipeline and advancing the quality of the deliverables.
Thus, creating feature-rich apps and enabling clients' business to improve their profits bequeath Grey Chain to tap into the list of top mobile app development companies in New Delhi at GoodFirms.
The review obtained at GoodFirms reflects the potential of the developers at Grey Chain.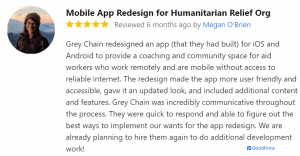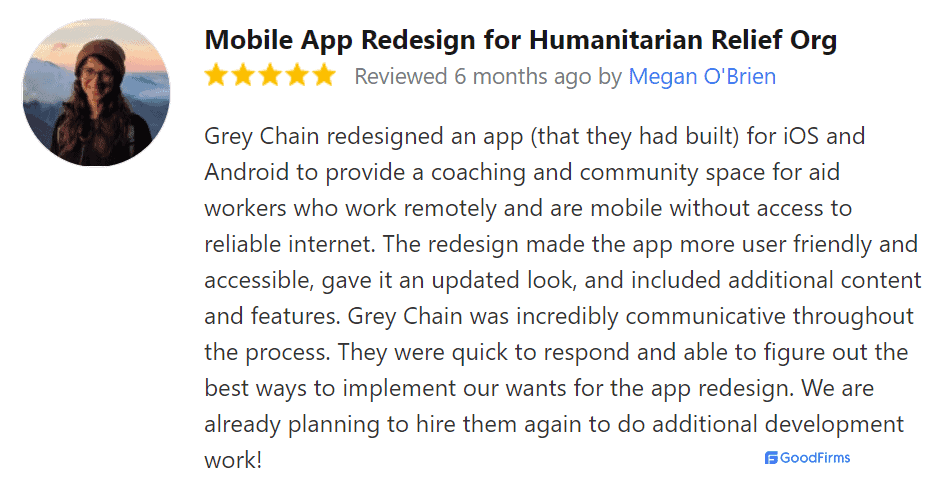 App Design:
Aesthetics and functionality of design have a unique significance during app development. Be it a web app or a mobile app; businesses need to have a striking design when it's generated. Ergo, expert app designers also resemble clients' ideas by offering easy-to-use functionalities.
At Grey Chain, the professionals believe in producing apps that have unmatchable designs. The team keeps in mind to match the client's requirements and give them constructive ideas to enhance their judgments. Having said that, Grey Chain provide clients with the service at a reasonable cost that doesn't burn a hole in their pocket, which endows the firm to thrive amongst the thriving mobile app design agencies in Delhi at GoodFirms.
The review obtained at GoodFirms confirms the quality app designs curated at Grey Chain.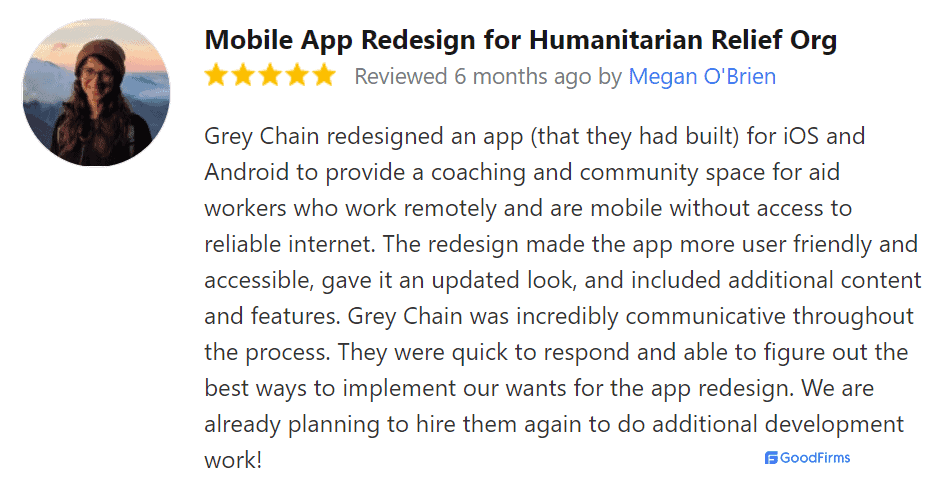 Web Development:
Grey Chain decodes bold ideas into industry-leading websites that propel clients' business from research to representation to implementation. The professional services guarantee the websites produced at Grey Chain set a high benchmark for commitment, efficiency, and elegance.
Websites need to work seamlessly every time, for every user, in various situations. Grey Chain blends engineering maneuvering at the outset of clients' projects to evaluate the scope, technical specifications, approach, and feasibility. Doing this builds trust and positions clients' custom websites by proving their value year after year.
Building appealing brand experiences based on pixel-perfect design converge on users gives a unique position to Grey Chain in the market. Thus, crafting mobile-responsive websites and presenting excellent benefits to the clients would soon endow Grey Chain to get dubbed amongst New York's top web development companies at GoodFirms.
Below-displayed review is evidence of quality websites developed at Grey Chain.

About GoodFirms
Washington, D.C.-based GoodFirms is a maverick B2B research and reviews firm that aligns its efforts in finding the mobile app development, mobile app design, and web development agencies delivering unparalleled services to its clients. GoodFirms' extensive research process ranks the companies, boosts their online reputation, and helps service seekers pick the right technology partner that meets their business needs.