As we all know that businesses are moving towards digitalization, and they are trying their best to adopt technology to improve their business practices by driving innovation and advancement. Modern organizations do not wish to stick with the old traditional methods, as they are targeting to be extra interactive with a positive approach to meet their clients' expectations.
The objective is to support potential customers and deliver business value, and making sure that all major operations are in liaison with each other and resulting in effective output; by optimizing the process and reducing the time to market.
Moreover, with DevOps for mobile app development and growing cloud services, tech companies and enterprises can certainly improve the different costs involved in deployment.
In today's blog, we will precisely explain how DevOps can save you around 80% deployment cost.
Understanding DevOps for businesses: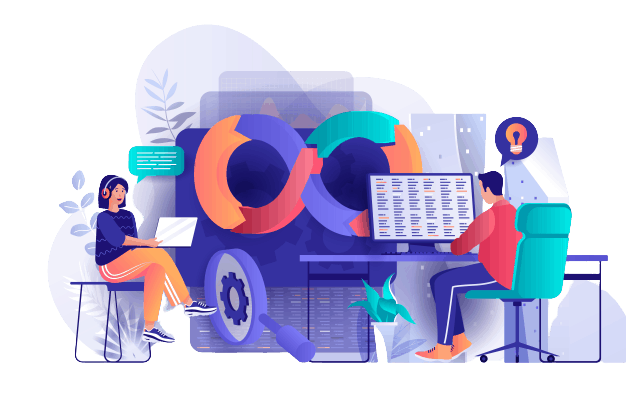 DevOps is a bridge between any business and IT operations. The practice is used by a struggling organization to achieve expedite results when the industry demands regular changes with high quality and effectiveness. In most cases, projects experience launch failure due to the last minute bug identification and fix, before the release dates. DevOps supports these programs to streamline the mobile app development process, by leading to better coordination among different departments; development, testing and operations.
Key DevOps Characteristics:
1. One-click deployments – It allows one-click deployment
2. Less Support Capacity Needed – It needs less capacity from infra support engineer post creation of the pipeline
3. Optimized Code Management – The code merged in the master branch can be pushed to development, testing and production in seconds instead of hours
4. High Uptime – It takes NIL downtime, as new Kubernetes containers can be deployed while existing ones are coming down
5. Faster Feedback – It provides a faster feedback loop
6. Quick Rollback – It dispenses easy and fast rollback to previous application versions, in case of production issues
7. Scalable – The autoscaling and loan balancing can ensure high uptime and zero user impact
8. Time-Saving – It supports around 75% less release time
As reported in a survey, US, UK and Australian technology companies are positively looking towards DevOps; around 86% of them were focused on implementing the exercise at the workplace. Moreover, 51% of the users are already using the practice and the rest will utilize DevOps in the near future.
Understanding DevOps as a Cost-Cutting element:
The utmost benefit of the DevOps strategy is that people engaged in app development and IT operations are always in communication with each other. Hence, a strong understanding within the unit, and with other departments lead to effective results.
Let's learn how DevOps helps in saving money and reducing app development cost:

1. Automated CI/CD service:
The automation will certainly assist web and mobile app developers to save time on managing servers, database connections, OS, storage and other infrastructure components. Hence, it does not need manual involvement for development, testing and deploying any application.
It is more like a framework template used by the development team which they can certainly modify if needed. This saves a lot of time to launch any new service. In addition, using the framework as code allows the same configuration to be applied for hundreds and thousands of nodes. This reduces developer's involvement so that they can focus on other tasks; hence saves a lot of time and money.
2. Reduced Release cost:
An effective practice for DevOps for mobile app development aids in quick-release maintaining high-quality results. With the gradual ease and less launch time, it proved to be a money saver with several benefits. It reduces the release cost to a great extent by automating the process and making it less dependent on manually testing. Without DevOps, it takes a couple of days and a great effort to complete the testing process. Besides, using the technology, the process can be taken care of overnight. As reported, it reduces the application release time by around 90% and takes less than half of manpower.
The less staff involvement and quick time of app release directly result in lowering the cost!
3. Minimal Downtime:
More than anything, an IT leader is always concerned about network downtime. We don't want our website or application to be paused, as it directly impacts the business revenue. Moreover, from a client's point of view, if they couldn't access the service due to maintenance or other reasons, their frustration may lead to the end of business relations. Besides, fixing the issues and go live again takes cost and manpower participation.
A productive DevOps assists in less downtime. The automation specifically identifies the bugs and fixes them accordingly before reaching the downtime point.
4. Modifications and Requested Changes:
There are certain changes that are observed just before the launch or even after releasing the application. These can be advanced feature or something that a client needs. So, before our product is identified as a successful app, we would certainly expect some changes which we implement in the next release. Consequently, mobile DevOps supports developers and teams to agile the process, and make the advancement available for the users.
The technology is best to go along with the market trend; faster and with less effort!
CI/CD DevOps Business Value:
-Growth in customer conversion/satisfaction
-Minimized spending on IT infrastructure
-Reduced app failure
-Growth in customer engagement
Also Read: What is the future – Web or Mobile app development?
Grey Chain Technology: Reliable mobile app development company in the USA & India
Grey Chain Technology is a trusted name when it comes to web and mobile app development. Our team is efficient in top mobile continuation integration tools and look forward to supporting you with advanced development strategies for your business.
We understand different app development needs and have been assisting businesses from all around the globe.
For inquiries, send us an email at sales@greychaindesign.com, and our experts will get back to you.
You can also book your appointment using our App Consultation Form!